Toulouse Lautrec Jazz Club
Description
Live Music, Dating and Date Night

Tickets from £12.00 - £14.00
Jazz and Live Music

Over 12
Fri, 24th May 2019 @ 21:30 - 23:45

21:30 - 23:45
Retro vocal ensemble, backed by soul-shaking folk and evocative, vivid lyrics.
Featuring three singers, Onyx & The Red Lips pushes the bounds of swing and pop, drawing inspiration from folk, soul and the Blues. Although this singular motif evokes the vocal harmony trios from the 40s and 50s like the "Andrews Sisters" or the "Chordettes", the band provides a refreshingly modern and uniquely personal take on the fifty's world taken straight from monochrome American films.
Originating as a solo project, Onyx, a singer-songwriter and pianist, met Cherry and Candy during their musical studies at the prestigious Cours Florent performing arts school in Paris. After several shared musical projects, they teamed up to pursue a much grander pursuit.
Focus was placed on building impressive vocal harmonies which give the music its character and which subsequently gave rise to 'Onyx & The Red Lips' as an ensemble. Catchy melodies with strong lyrics reach out to audiences, creating a retro universe with a powerful, feminist flare. The eclectic musical range of the band brings new style to a familiar sound. Actresses by trade, each vocalist brings her own, richly coloured character to the stage, with a well-honed sense of interpretation and innate awareness of theatrical presentation.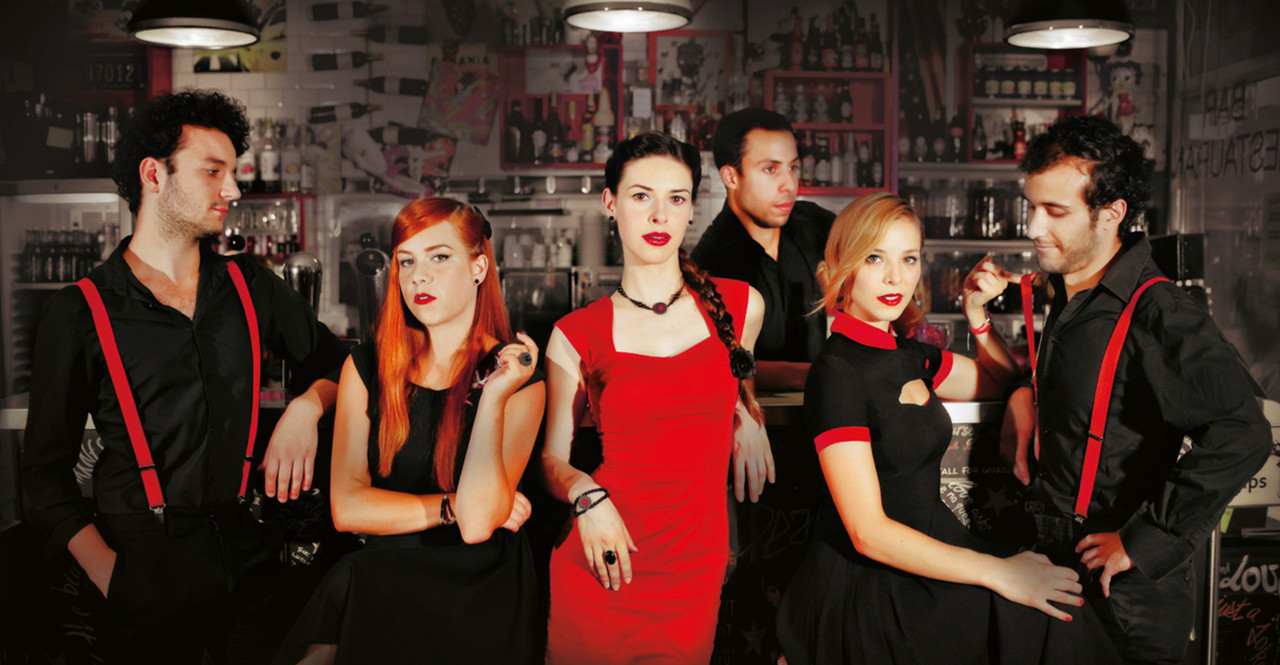 Enraptured by the groovy tones of a double bass and the jazzy beats of a drum; the music gradually intoxicates its audience with upbeat and captivating melodies, a contagious swing vibe and an emphatically retro and glamorous tone which gives rise to an eclectic composition that pushes euphonic boundaries.
Floriane Andersen – Lead Singer
Marine Andre – Soprano Singer
Gillian Quinn – Alto Singer
Billy Boguard – Guitar & Piano
Floriane Bel – Double Bass
Franck Mary – Drums


OTHER INFORMATION
GENRES: INDIE, POP-FOLK, JAZZ & BLUES
TICKETS: CONCESSION £12 | STANDARD £14 | ON THE DOOR £18
SEATING IS UN-ALLOCATED AND IS SUBJECT TO 1ST COME, 1ST SERVED BASIS
ONLY BAR FOOD & DRINKS AVAILABLE IN JAZZ CLUB
À LA CARTE DINING AVAILABLE IN THE MAIN RESTAURANT PRIOR TO SHOW
PLEASE ALLOW UP TO 2 HOURS FOR DINNER RESERVATIONS.

Offers
Tickets/Times
Ticket
Event time
Cost
Admission

Admission

21:30 - 23:45
£14.00
Concession

Student / OAP

21:30 - 23:45
£12.00
Location
Address
Toulouse Lautrec Jazz Club, 140 Newington Butts, SE11 4RN
Organiser
Toulouse Lautrec
Paying tribute to one of France's most flamboyant artists, Toulouse Lautrec is an intimate Brasserie & Wine Bar in Kennington, South London. Brimming with the bohemian charm of the Parisian jazz bars of a bygone era. The venue is rapidly becoming one of London's finest live music venue providing quality live music from Jazz to Soul Funk, from French Chansons to Latin Salsa.
---
More from Toulouse Lautrec Jazz Club
Venue
T&C s
1) Tickets are non-refundable with 48 Hours of the event.
2) Attendees under the age of 18 must be accompanied by a responsible adult.
3) We operate a Check-21. If you are lucky enough to appear younger than 21 you may be asked for photographic ID.
4) Seating is available on a first come, first served basis only. Latecomers may be required to stand until seating becomes available.
5) Reserved seating is only available for ticket holders of 7 or more people.