THE FOLLY MIXTURES - LES FEMMES D'HENRI
4 reviews

Toulouse Lautrec Jazz Club
Description
Cabaret/Burlesque, Hen Party and Stag Do

Tickets from £10.00
This event has taken place.

20:00 - 22:30
"A Burlesque Cabaret Premiere!"
The Folly Mixtures Burlesque Troupe joined by Mister Meredith.


Be transported back to the Cafés of Montmartre and The Moulin Rouge at the end of the 19th Century and meet the characters portrayed in Henri de Toulouse Lautrec's famous paintings. Mister Meredith will lead us through this journey with live music, as you encounter a few famous personalities from these masterpieces. Join The Folly Mixtures for the premiere of this fun, rowdy night of music, dance and Burlesque, created especially for this wonderfully intimate London Jazz club. A night not to miss and impossible to forget!
The Folly Mixtures are London's leading Burlesque troupe and have been entertaining audiences worldwide for the past 9 years. With shows full of personality, slick choreography and pizzazz, they provide the perfect cheeky mix of song, dance and striptease. The girls have performed at London Cabaret Clubs such as Madame Jojo's and The Café de Paris, on UK Theatre Tour 'Evening of Burlesque' and even on ITV! Their unique brand has taken them from Latvia to The Seychelles, charming audiences wherever they go. Mister Meredith is renowned for his piano singalong nights at Norman's Coach and Horses, The King William IV The George Tavern, they have become quite the party on the London scene with many a celebrity guest getting their knees up round his instrument! Bringing years of experience in theatre, cabaret and hosting grand events, his quick wit and comedy is a highlight to any show.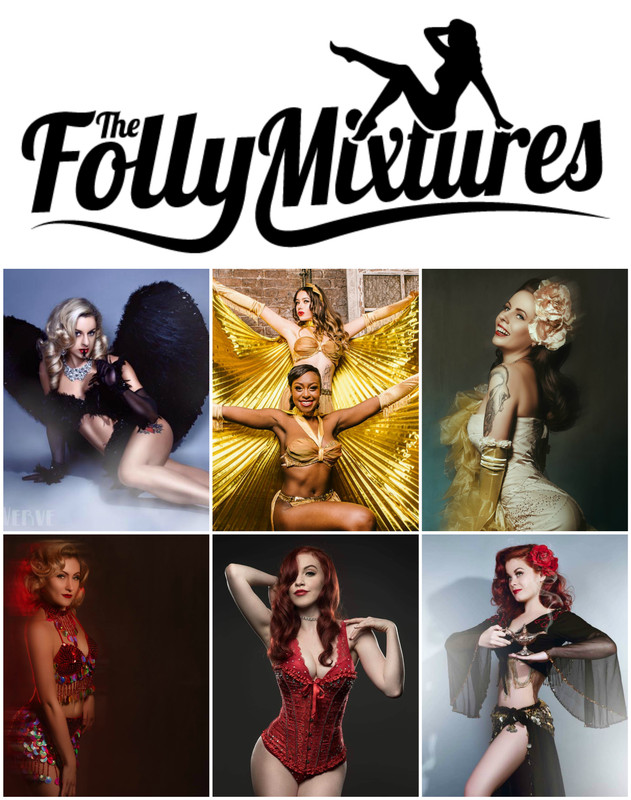 "Like Charlie's Angels but with lust, bust and 100% more sex appeal." 
Michelle Stannard, Alt Entertainer
"'All red lips and wiggling derrieres, the enthusiastic audience is soon making whoopee and joining in the fun..." 
The Stage
"Sparkling and sexy." 
GQ Italia
"The four bombshells deftly spurred the public into a whooping, wolf-whistling frenzy, masterfully adapting the intimate language of burlesque to the daunting magnitude of a proper West End venue." 
C.J. Lazeretti, Erotic Review
"Burlesque Mavens" 
Cabaret Zingers of the Week, The Londonist
OTHER INFORMATION
GENRES: BURLESQUE CABARET SHOW

TICKETS: EARLY BIRD TICKETS £10 | ON THE DOOR £12
BAR FOOD & DRINKS AVAILABLE IN JAZZ CLUB | DINNER MENU AVAILABLE IN THE MAIN RESTAURANT
PLEASE ALLOW 60-90 MINUTES FOR DINNER RESERVATIONS.  
Offers
Tickets/Times
Ticket
Event time
Cost
Admission

Admission

20:00 - 22:30
£10.00
Location
Address
Toulouse Lautrec Jazz Club, 140 Newington Butts, SE11 4RN
Organiser
Toulouse Lautrec
Paying tribute to one of France's most flamboyant artists, Toulouse Lautrec is an intimate Brasserie & Wine Bar in Kennington, South London. Brimming with the bohemian charm of the Parisian jazz bars of a bygone era. The venue is rapidly becoming one of London's finest live music venue providing quality live music from Jazz to Soul Funk, from French Chansons to Latin Salsa.
Venue
T&C s
1) Tickets are non-refundable with 48 Hours of the event.
2) Reserved seating is only available for ticket holders of 7 or more people.
3) Seating is available on a first come, first served basis only. Latecomers may be required to stand until seating becomes available.