Bloody Scary Halloween Pub Crawl w/ FREE Shots
Barhopping UK | Meeting point: Soho Zebrano Bar
Description
Bar Crawl, Something A Little Different and Themed Nights

Tickets from £15.00 - £25.00
Party Mash Up, Hip Hop/RnB and House Music

Over 18
Thursday 31st October 2019 and 2 other dates

19:00 - 03:00


JOIN THE LONDON'S BIGGEST  HALLOWEEN PUB CRAWL, WE'RE DYING TO SEE YOU!
It's the moment you've been waiting for ….Our official LONDON'S BIGGEST HALLOWEEN PUB CRAWL just arrived. Friday 25th, Saturday 26th and Thursday 31st of October we have terrifying nights that you will not forget in a long time. 
How does it work? Drink or Treat?  
More than 500 zombies, superheroes, sexy ladies, monsters, witches, ghosts and so on - will crawl to 4 Bars/Club in Central London.
Tickets Includes:
💀  BAR 1: Spooky SHOT+ Discount Drinks
💀  BAR 2: Welcome Shot + Discount Drinks
💀  BAR 3: Welcome shot + Discount Drinks
💀  CLUB: Free Entrance, no Queue
*Awesome Zombies Hosts will guide you to each venue!
**Watch out for the professional photographer and his habits to find you in your best moments or romantic one!
Come dressed as your best: Get creative, not be lame, be naughty, be creepy, float or crawl to our costume party!
Price: 

💀  Early Online Tickets £15 
💀  Normal Online Tickets £20
💀  Last Minute Online Ticket £25
💀  At the Door £30. You can purchase tickets at the door, but there is limited space available (and it's more expensive!)
*Please Note: We are often SOLD OUT before the event start, so make sure to reserve your spot by booking online.
Check our last year Halloween Party 👇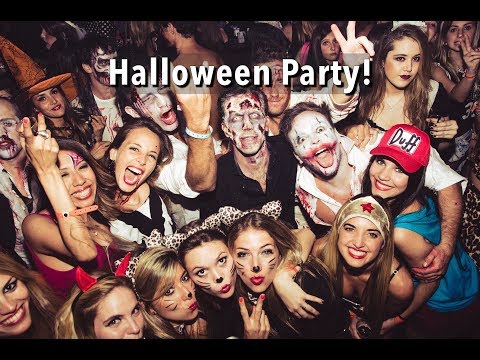 IMPORTANT

Must bring your ID (Age 18 +)
Don't stay home and miss out the biggest party of the year! It will haunt you Forever!!!! 
More information, check out our website: http://www.barhoppingpubcrawl.com/halloween-party

Offers
Tickets/Times
| Ticket | Event time | Cost |
| --- | --- | --- |
| Early Bird Halloween | 19:00 - 03:00 | £15.00 |
| Online Halloween | 19:00 - 03:00 | £20.00 |
| Last Minute Halloween | 19:00 - 03:00 | £25.00 |
Location
Address
Barhopping UK | Meeting point: Soho Zebrano Bar, 18 Greek St, Soho, London W1D 4DS, London, W1D 4DS
Nearest Station
Tottenham Court Road (Tube)
Organiser
BarHopping UK
A brand that creates a connection between international students, young professionals and travellers by a weekly event called Barhopping.
T&C s
1. The ticket holder voluntarily assumes all risks and danger incidental to the event for which the ticket is issued, whether occurring prior, during or after the event. The ticket holder voluntarily agrees that the management, venue, event participants, DesignMyNight (WFL Media Ltd) and all of their respective agents, officers, directors, owners and employers are expressly released by the ticket holder from any claims arising from such causes.
2. Tickets are issued subject to the rules and regulations of the venue.
3. Please check your tickets, as mistakes cannot always be rectified.
4. Occasionally, events are cancelled or postponed by the promoter, team, performer or venue for a variety of reasons. If the event is cancelled, please contact us for information on receiving a refund from the responsible party. If the event was moved or rescheduled, the venue or promoter may set refund limitations. It is your responsibility to ascertain the date and time of any rearranged event.
5. The venue reserves the right to refuse admission and may on occasion have to conduct security searches to ensure the safety of the patrons.
6. Every effort to admit latecomers will be made at a suitable break in the event, but admission cannot always be guaranteed.
7. We regret that tickets cannot be exchanged or refunded after purchase.
8. Tickets are sold subject to the venue or promoter's right to alter or vary the programme due to events or circumstances beyond its control without being obliged to refund monies or exchange tickets.
9. If this ticket is re-sold or transferred for profit or commercial gain by anyone other than the promoter, venue management, DesignMyNight or one of their authorised sub-agents, it will become voidable and the holder may be
refused entry to or ejected from the venue.
10. The venue may operate a No Smoking Policy.
11. The promoter, venue management and DesignMyNight accept no responsibility for any personal property.
12. The event listed on the purchased ticket is strictly for ticket holders who are over 18 years of age. Identification may be required.