Brum's Big Black Tie Bash - AT HOME!
Description
Something A Little Different, Comedy and Food & Drink

Tickets from £15.00 - £35.00
Live Music, Party Mash Up and Rhythm and Blues

Over 18
Sun, 12th Apr 2020 @ 19:00 - 22:00

19:00 - 22:00
If you can't go to the party - we'll bring the party (Online) to you. This EASTER SUNDAY
Get yourselves dressed up to the nines, in your Sunday best or even fancy dress, and post your pics, as we stream live Michelin Starred Chefs and mixologists to help coach you through your drinks and dinner, then top it off with a whole array of outstanding live entertainment, brought to you by local resident performers from Harvey Nichols, Marco Pierre Whites, and Malmaison courtesy of Birmingham's very finest - Elegant Entertainment!
Also being joined by celebrity guests, people of infleunce and many more as people come togther for this very special night of entertainment to rasie funds for local artists, Music Minds Matter and our NHS.
All dressed up, now with somewhere to go?
A big night out, at home!
Coming live to you this Easter Sunday.
Yes, we may be locked down and unable to paint the town... but that's no excuse to let your glad rags gather dust, this house party is a must!
 As Ru Paul would say "Category is…Sofa Chic Eleganza!"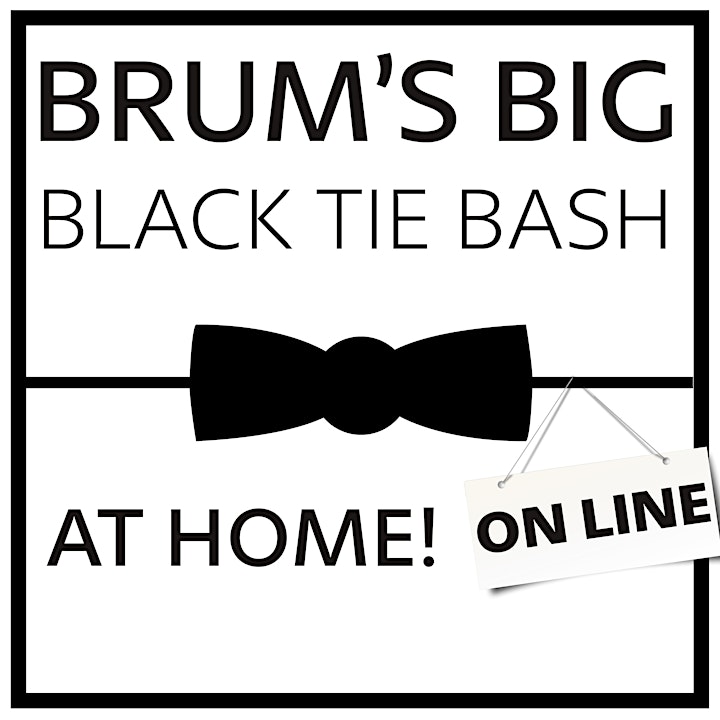 Dine with us and enjoy:
Cook-a-longs with three of Birmingham's finest chefs:
-Celebrity Michelin Starred TV Chef, and author, Glynn Purnell (Purnell's & Purnell's Bistro & Bar)
- Michelin Starred TV Chef, Aktar Islam will be working his magic too! (Opheem & Pulperia)
- Alex Claridge from The Great British Menu takes us on his sweet journey for BBBTB. (The Wilderness)
A cockatil masterclass, teaching you how to be the best home bartender going
Live music from the team at Elegant Entertainment, including; pianists, singers, acoustic guitarists and saxophonists.
Live performances from 'The Greatest Showman' featuring contortionists, snake charming, fire breathing and all the fun of the fair
PLUS a whole host of other celebrity guests live from their homes
All hosted by BBC Good Food Show and Colmore Food Festival presenter, Phil Oldershaw, and ending on a high with a feel-good gospel choir and our incredible five-piece house band, The Collective.
We're bringing you an entire night of music, cocktails and an endless live presented show - all streamed to you in the comfort of your own home.
 We'll send you a shopping list in plenty of time for everything you'll need, or that you may already have in your cupboards, fridge or freezer. Don't forget a bottle of fizz for the opening celebrations and the communal "pop"! It's up to you how invloved you get, what you cook and how much you drink!!

Turns out - You shall go to the ball for a truly unique experience along with guests from all over Birmingham and beyond.
Meticulously rehearsed, this huge night of endless entertainment and luxury dining is only £15 for a household ticket and streamed live through Facebook and into your home for everyone to enjoy. So if you've ever wanted to buy one ticket and sneak the whole family in, this is the gig for you!
 So take your tux out of 'time out', your stilettos from solitary and reserve your right to party; because going OUT OUT is so over…. We're being safe and staying IN IN.
Brum's Big Black Tie Bash, at Home!
Are you ready for it!!
Offers
Tickets/Times
Ticket
Event time
Cost
Family Ticket (household)

If you've ever wanted to buy one ticket and sneak the whole family in, this is the one for you! Once your ticket is purchased you'll receive an instruction packet and ingredients list as well as access to the private Facebook group where the live event will be shown.

19:00 - 22:00
£15.00
VIP

Upgrade your experience to VIP which includes signed cookbook from celebrity chef Glynn Purnell, a donation to the NHS, a special mention in the live stream and the opportunity to appear live from your living room! Once your ticket is purchased you'll receive an instruction packet and ingredients list as well as access to the private Facebook group where the live event will be shown.

19:00 - 22:00
£35.00
Location
Address
YOUR HOUSE!, Commercial Street, Birmingham, B11PP
Organiser
T&C s
1. The ticket holder voluntarily assumes all risks and danger incidental to the event for which the ticket is issued, whether occurring prior, during or after the event. The ticket holder voluntarily agrees that the management, venue, event participants, DesignMyNight (WFL Media Ltd) and all of their respective agents, officers, directors, owners and employers are expressly released by the ticket holder from any claims arising from such causes.
2. Tickets are issued subject to the rules and regulations of the venue.
3. Please check your tickets, as mistakes cannot always be rectified.
4. Occasionally, events are cancelled or postponed by the promoter, team, performer or venue for a variety of reasons. If the event is cancelled, please contact us for information on receiving a refund from the responsible party. If the event was moved or rescheduled, the venue or promoter may set refund limitations. It is your responsibility to ascertain the date and time of any rearranged event.
5. The venue reserves the right to refuse admission and may on occasion have to conduct security searches to ensure the safety of the patrons.
6. Every effort to admit latecomers will be made at a suitable break in the event, but admission cannot always be guaranteed.
7. We regret that tickets cannot be exchanged or refunded after purchase.
8. Tickets are sold subject to the venue or promoter's right to alter or vary the programme due to events or circumstances beyond its control without being obliged to refund monies or exchange tickets.
9. If this ticket is re-sold or transferred for profit or commercial gain by anyone other than the promoter, venue management, DesignMyNight or one of their authorised sub-agents, it will become voidable and the holder may be
refused entry to or ejected from the venue.
10. The venue may operate a No Smoking Policy.
11. The promoter, venue management and DesignMyNight accept no responsibility for any personal property.
12. The event listed on the purchased ticket is strictly for ticket holders who are over 18 years of age. Identification may be required.